When it comes to upholstery fabric,
the
embroidered fabric
is a great choice. It adds a touch of elegance and beauty to the decor of your home. In addition to being durable and stain resistant, it can also be machine-washable.
An embroidery is an art form that has been around for centuries. Today, it is used to embellish items such as furniture, clothing, and household linens. Historically, the embroidered cloth was decorated with hand-painted threads. However, embroidery is now performed with the help of computerized sewing machines.
The technique involved in embroidery can also influence the produced fabric. For example, embroidered upholstery fabric will not be as durable as woven one. Moreover, the use of synthetic fibers can increase the durability of the finished product. This means that it can resist stains and mold.
Upholstery fabrics are abrasion-resistant and have a variety of textures, finishes, and colors. If you are planning on purchasing upholstery for your home, it is a good idea to take some time to browse through the different options available. Using a sample will help you see how adjustments need to be made.
During production, it is important to follow strict guidelines to make sure the final product will meet your needs. Some of these standards include color stability, tensile strength, resistance to friction, and UV light. A reputable company should be able to provide you with these requirements.
As the name suggests, embroidery is a technique for creating intricate designs and patterns. It can be applied to many types of fabric. One of the most popular is canvas, which is often used for hand embroidery. Canvas has a mesh pattern that helps in the creation of embroidered designs with thick thread. Embroidery can be done on a variety of fabrics, including cotton, silk, wool, and jute. In the case of crewel, a type of surface embroidery, the thread is usually stitched with a hook.
During the process, a variety of stitches and patterns are used to create the finished piece. Different kinds of "fills" and threads are added to the pattern, adding texture to the final product. Typically, a variety of colors are used to create the design. During the production process, the material is subjected to a wide range of stresses. Compared to woven upholstery fabric, the embroidered fabric offers the advantage of being stain-resistant. These embroidered fabrics can also be machine-washable, making them convenient for home use.
Embroidery upholstery fabric is a versatile fabric that can be used in a wide variety of applications. In addition to being durable, it can also provide an elegant look. Several companies offer embroidered drapery fabric at affordable rates. Depending on your needs, you can select from geometric, floral, or even embroidered chair fabric.
Embroidered upholstery fabric is made by mixing and matching natural and synthetic fibers. Since the fiber content can affect the fabric's durability, the fibers that are used must be selected carefully. You may consider purchasing a heavy-duty upholstery fabric such as duck cloth. Alternatively, you can opt for a lighter-weight fabric for more casual uses.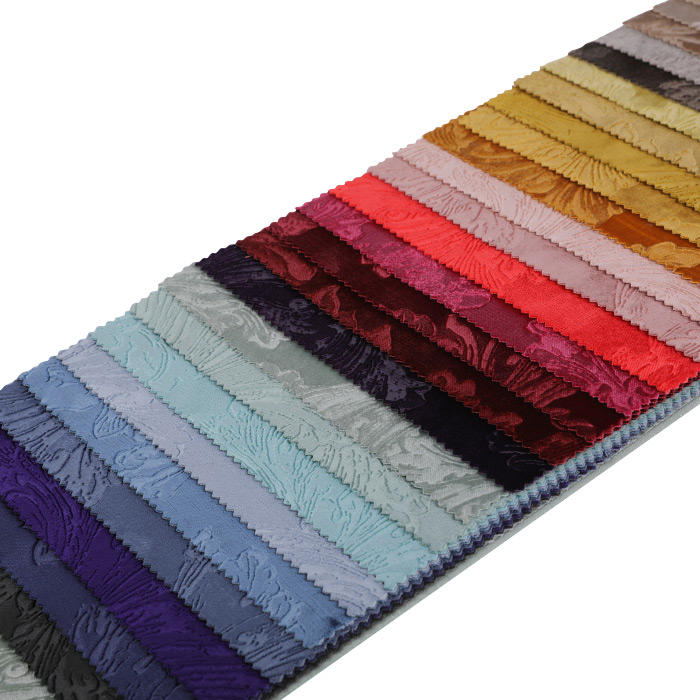 High quality emboss sofa fabric , cut velvet emboss sofa fabric for hometextile
| | |
| --- | --- |
| Item Name | High quality emboss velvet |
| Composition | 100% Polyester |
| Weight | 420GSM |
| Width | 145cm |
| MOQ | 800M/Color |
| Delivery time | 20-30 days after received deposit |
| Packing  | Standard packing / Customized package |
| Payment | L/C,T/T,D/P |
| Market | Middle-East , South America , North America , Europe and so on. |