Embroidery upholstery sofa fabric adds a beautiful
and functional touch to your home. It can be used to create furniture sets, home accessories, or decorative designs. Embroidery fabrics are woven from various materials such as cotton, linen, wool, and silk. This type of fabric is usually machine-washable and stain resistant. However, it can fade over time, so you should choose the fabric wisely.
Fabrics with a heavy fiber content are more durable. You can find these types of fabric in several different colors, finishes, and textures. Those with a synthetic fiber content tend to be stronger. But, they are also more expensive. In addition, they are not as comfortable. For the cheapest option, you can try Nylon or Silk.
Embroidery upholstery fabrics are also available in a variety of colors, patterns, and textures. Some fabrics have a natural feel and are breathable. Others are more durable and stain resistant. Choose the right one to give your home a look you love.
Embroidery upholstery fabric can be made from cotton, linen, silk, wool, and polyester. While some fabrics are more durable than others, choosing the right embroidered fabric is essential. Selecting the wrong embroidered material can ruin the look of your interior design.To choose the best embroidered upholstery fabric, you should take into account the material's durability, color stability, and texture. The material you choose should have a low level of friction.
A sturdy embroidered upholstery fabric will last for a long time, but it's important to select the right color to complement your furnishings. The color you pick must be bold enough to compliment the pattern, but also work with the texture of the upholstery. Alternatively, you can choose a neutral or rich solid color.
Another factor to consider when selecting a fabric for upholstered furniture is the abrasion resistance. Embroidery fabrics with a polyester or rayon backing can rip easily, whereas fabrics made from wool and cotton are able to retain their shape and color. These types of fabrics can also pill. So, be sure to check the label before purchasing.The abrasion resistance of a fabric can be tested by performing a double rub test. This test mimics wear and tear. If the results are higher, you can be confident in the fabric's quality.
Embroidery upholstery fabric can help you create unique, intricate patterns and designs for your home. If you're not sure which fabric to choose, try visiting an upholstery store. They can provide you with a sample to show you what adjustments need to be made. Trying it out in the store can ensure that you're getting the right style for your home.
Embroidery fabrics are also a great way to achieve an eclectic and individualized look. For example, you can blend embroidered fabric with another fabric to create a stylish and unique pattern. And, you can also use embroidered fabric solely for your furniture. As with any other fabric, it's important to choose the right upholstery fabric for your home.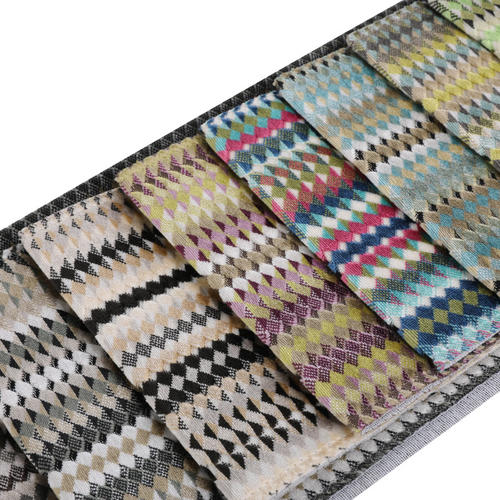 Popular classical European luxury jacquard fabric for hometextile