When selecting a new piece of upholstery fabric,
you will need to take a few important factors into account. The first thing to consider is whether you want the pattern to be the same on both sides of the fabric. Also, consider whether you need a fabric that is durable and stain-resistant. A Jacquard is a good choice if you are concerned about accidental stains.
Patterns are the same on both sides of the fabric
If you are looking for a high-quality upholstery fabric, you may want to consider Jacquard. This type of upholstery fabric has a pattern that is the same on both sides. The pattern is created by shrinking natural fibers. This creates a unique design with blister-like bumps on both sides. The jacquard fabric is most commonly used for upholstery and is also useful for clothing.
One of the most appealing qualities of Jacquard upholstery fabric is that its pattern is the same on both sides. This means that you can use the fabric for reversible projects or pattern-blocking. The design on the reverse side complements the design on the right side. Jacquard fabrics can be made from different materials, including cotton, silk, and polyester. They can be used to make upholstery, curtains, and drapes.
It is resistant to accidental stains
Many people put off purchasing new furniture for their homes because they worry about accidental stains. Fortunately, there is a new category of upholstery fabric that is made to withstand spills and dirt. Jacquard Upholstery Fabric is one example of this type of fabric. This type of fabric resists stains from coffee, juices, and other liquids. The pattern is resistant to fading and soiling, and it is also extremely durable.
A Jacquard Upholstery Fabric can withstand any accidental stain without losing its appeal. It's so stain-resistant that it will never go out of style. It's also easy to clean, which means stains are less likely to ruin your furniture. This fabric also keeps your items fresher for longer periods of time. It's a smart choice for any home.
It is durable
When choosing upholstery fabric, choose a quality jacquard fabric for your furniture. Jacquard fabric is durable, long-lasting, and can be used to create a bold design or a subtle one. Choose a self-patterned fabric if you want to make a statement with your upholstery, or select a patterned jacquard fabric for a more subdued elegance.
Whether you're buying a sofa or a dining room chair, consider jacquard fabric. Its durable weave offers endless design possibilities and is suitable for indoor and outdoor use. These fabrics are usually blended with elastic fibers to reduce pilling and reduce fading, making them a good choice for upholstery. You can even use stretch jacquard fabric for body-hugging styles. It will look beautiful on any furniture, making it a versatile, timeless addition to any home.
It is strong
Jacquard Upholstery Fabric is a high-end choice for upholstery. This fabric is strong and durable, and can create a stunning statement. It's available in a variety of styles, from bold and eye-catching to understated and elegant.
Sunbrella Jacquard Upholstery Fabric comes in a variety of colors and designs. In addition to its vibrant colors, this fabric is durable and easy to clean. Its unique blend of polyester, PVC, and acrylic means that it will last for years to come. It's also resistant to stains, and a great choice for patio furniture and umbrellas. It's also available in traditional jacquard styles and decorative pillows.
Certified fabrics come from factories that adhere to strict environmental and ethical standards. The textile industry focuses on sustainable practices and Oeko-Tex standards. Jacquard is often used in lingerie, sportswear, and other clothing. Oeko-Tex certified fabrics are also suitable for upholstery and home decor. Their average output value exceeds 100 million US dollars. The unit price varies from 500 to 2,000 meters, and the lead time is one month. Payment terms include T/T and LC.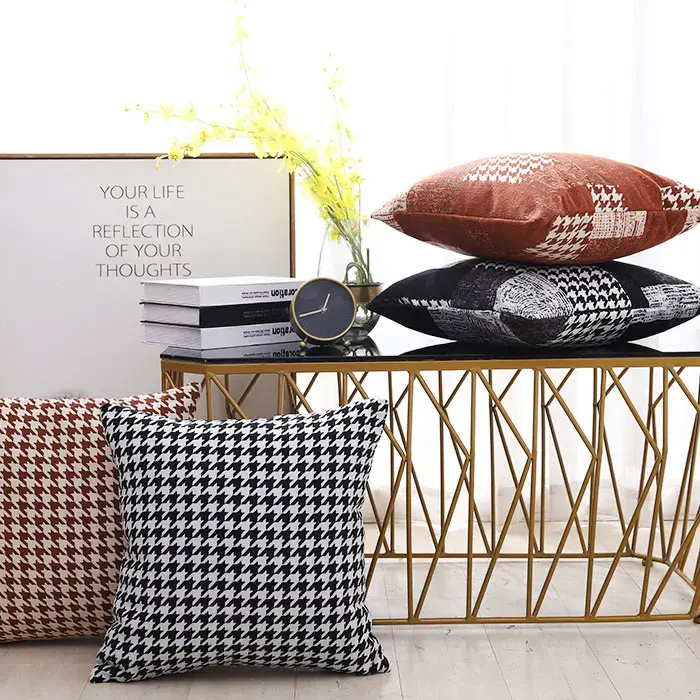 Houndstooth sofa fabric, jaquard cushion fabric for hometextile
| | |
| --- | --- |
| Item Name | NO.19666 |
| Composition | 100% Polyester |
| Weight | 250-270GSM |
| Width | 145cm |
| MOQ | 800M/Color |
| Delivery time | 20-30 days after received deposit |
| Packing  | Standard packing / Customized package |
| Payment | L/C,T/T,D/P |
| Market | Middle-East , South America , North America , Europe and so on. |