If you are wondering what is Velvet Upholstery Fabric
, read this article! In this article we will take a closer look at this material and its maintenance requirements. The material is usually made from natural fibers, but it can also be treated with water-based solvents. Care for Velvet Upholstery Fabric is more complex than caring for ordinary fabrics. It requires special care and maintenance, and cleaning and preservation should be done carefully to maintain its quality and appearance.
There are several reasons why velvet is a popular upholstery fabric. First, it feels incredibly soft and warm. The richness of the material means it adds depth and color to your furniture. Another reason why velvet is so appealing is because it is dyed with great intensity, so a blue color on velvet will look much deeper than a similar hue on other fabrics. Therefore, if you are looking for a rich, deep color, consider using velvet upholstery.
A velvet sample will reveal the type of fibers used in the material. You will see a difference in the amount of pile by bending it at an angle. The tighter the weave, the better. A fabric with visible backing is a poor quality velvet. To check the pile, bend the sample on a diagonal to ensure it is woven tightly. If there is visible backing, it is likely to be of lower quality.
When choosing a velvet fabric, consider the pile and nap. While both types of velvet are luxurious, they differ in their fiber content. The pile is the fibers that stick up from the backing, giving velvet its plush surface. The nap, on the other hand, refers to the direction of the fibers. Some velvets have directional pile, but others don't. In either case, the direction of the pile changes slightly and the shape covered in velvet is visually appealing.
While velvet is a luxurious material, the durability of it makes it an ideal choice for upholstery. The soft texture and luxurious drape of velvet fabric makes it a popular choice for sofas, chairs, and cushions. This material is ideal for any type of decorating project, from luxurious settings to casual settings. If you are thinking of purchasing a velvet fabric, make sure to check out the various types on the market before you buy it!
While velvet may look luxurious, it is also extremely durable. Some velvets even have stain-resistant finishes. If you are worried about the durability of your upholstery, consider investing in a contrasting velvet color. In general, velvet is easier to maintain than other upholstery fabrics, but some types require special cleaning methods. If you're worried that your upholstery will fall apart, try blotting up liquid spills as soon as possible. Keep in mind that stains may be difficult to remove once they have dried.
If you want to make a bold visual statement, consider investing in a velvet sofa. This luxurious material will make a dramatic statement in any room. You can buy a tufted velvet sofa, a classic chesterfield sofa, or even a vintage style velvet couch. Regardless of your decorating style, velvet will bring a luminous sheen to any space. The choice is yours. You'll never regret it!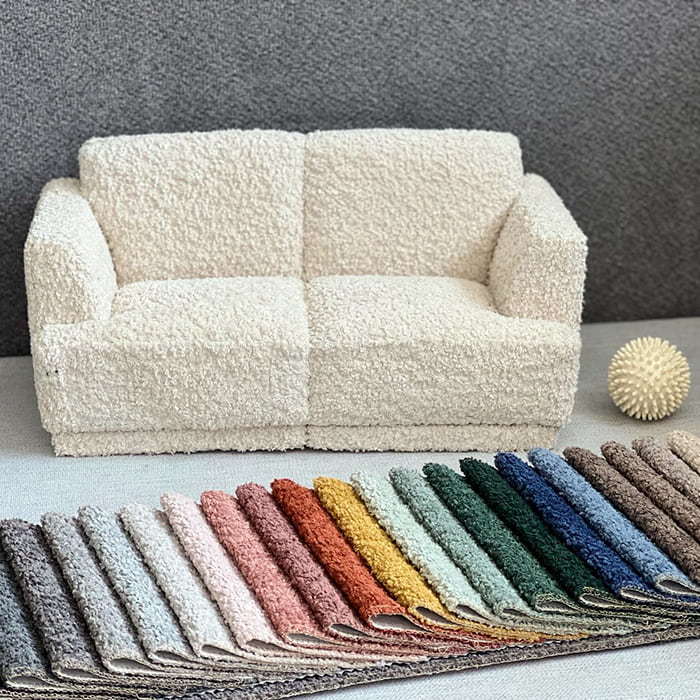 China sofa fabric for furniture, high quality upholstery fabrics for sofa